Billionaire Boy's Club, Time Out, May 2009
To many, Roberto Cavalli's creations are rather vulgar, excessive displays of wealth. But here in the Middle East, they're absolutely adored. I spoke to the pint-sized, teak-coloured designer ahead of the opening of Cavalli Club, his multi-million dollar, animal print adorned nightspot in Dubai.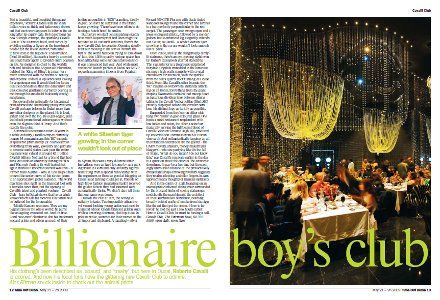 Billionaire Boys Club
'Eet is beautiful, and beautiful things are expensive,' Roberto Cavalli tells me in an Italian voice so thick and ludicrously drawn out that each word appears to loiter in the air long after its expiry date. He's describing his new 'lifestyle concept', the sparkling Cavalli Club at The Fairmont hotel, and tactically avoiding putting a figure on the investment needed for the lavish interior, rumoured to have cost in the region of US$30million (Dhs110 million). But such a heavily accented line could really apply to Cavalli's entire position on life. As designer-in-chief to the world's rich and fabulous, this 68-year-old Florentine, dubbed the 'King of Bling', is a man very much connected with the realms of beauty and expense. Indeed, if opulence was looking for a spokesperson, it would find few better qualified candidates than the diminutive and teak-coloured gentleman currently peering at me through his (no doubt hideously costly) sunglasses.
Renowned internationally for his animal print-adorned and shamelessly pricey creations, Cavalli perhaps belongs in Dubai more than any other designer on the planet. He is loud, garish and over the top. He is gilt-edged, gold-leafed self-promotional extravagance without even the slightest hint of irony. And that's exactly the point.
A shrewd businessman after 50 years in a fickle industry, Cavalli's empire currently houses 16 companies and his 'RC' insignia is splattered prominently (of course) across everything from wine, jewellery and perfume to ceramic sushi plates. Last year the entire business was valued at around €1.1 billion (Dhs5.5 billion). Not bad for a brand that had sunk into fashion obscurity during the '80s and '90s, only finding its well-heeled feet again thanks to Roberto's second wife Eva – a former Miss Austria – who in 1994 helped him present the sexier curve of his stretch jeans to an appreciative global audience. The world may have shot itself in the financial foot with a bazooka since then, but the opening of Cavalli's latest and greatest venture – Cavalli Club – here in Dubai shows that he certainly knows which side his focaccia alla barese will be buttered for the foreseeable.
'Middle Eastern woo-men. They are my biggest fans in the whole world,' he purrs like an ageing, creosoted cat. And it's true. Local 'woo-men' clamber to don his trademark leopard prints and adorn as much of their bodies as possible in 'RC' branding, ideally in gold. So don't be surprised if the brand keeps growing. 'There have been offers to do boutique hotels here,' he smiles.
But before we start contemplating exactly how much leopard-print bed linen might be required to kit out such ventures, there's the new Cavalli Club to consider. Opening shortly after our meeting to the sort of fanfare the rest of the world has been trying to tone down of late, this 1,500 capacity 'unique space' has been attracting some serious attention since it was announced last year. And while most 'exclusive' launch parties in Dubai see RSVP requests spamming inboxes from Fujairah to Ajman, this was a very different affair. Invitations were as hard to come by as a parking space in Deira and only industry figures benefitting from a special relationship with the organisers or those as good at blagging as Cavalli is at tanning could get in. Friends on high-brow fashion magazines hadn't received the golden tickets they had assumed were automatically theirs. We didn't dare tell them that our name was down.
Outside the club at 1am, the setting is suitably to taste. Two impossibly attractive yet vacant-looking young ladies wait next to a limited edition Cavalli-branded golden Audi while a towering doorman, clad top-to-toe in pristine white, searches for their names on the all-important clipboard. A dazzlingly silver Ferrari 599 GTB Fiorano with black-tinted windows swings round the corner and lurches to a halt perfectly perpendicular to the red carpet. The passenger door swings open and a jewel-encrusted stiletto, followed by a slender golden, bottle-enhanced leg, elegantly extends out. So far, so Cavalli. A white Siberian tiger growling in the corner wouldn't look remotely out of place.
Once inside, and up the dangerously dimly-lit staircase, there's an eye-opening sight even by Dubai's excessively starred standards. The vast interior is a Swarovski-splattered fairytale. Crystals embedded in the luminous six metre-high walls compete with crystal chandeliers for attention, with the sparkle from the black quartz floor running in a close third. Much like Cavalli's other brands, the 'RC' insignia is everywhere, instantly attacking on all fronts. Everything from the giant draping Swarovski curtains that swoop down as luxurious dividing lines between dining tables to the Cavalli Vodka bottles (Dhs1,350) proudly displayed behind the circular bars bear his distinct logo as luridly as possible.
Suspended from the floor on either side hang two 'atolls' in gold-coloured glass. One hosts a sushi restaurant resplendent with low tables and sofas, the other a wine bar (naturally serving the full-bodied blend of Cavalli Selection Tenuate Degli Dei, produced by Roberto's son Tommaso from his Tuscan vineyard). And enthusiastically lapping up all this branded ostentation are the guests – the UAE's movers, shakers, money makers and blaggers – who are partying like it's the fall of Rome. 'What do you mean? I do not know this,' was Cavalli's response earlier in the day to a question about the effect of the economic downturn. It may be a free bar, but the seemingly untroubled attitude of the provocatively dressed and shape-throwing revellers suggests they're also adopting a similar fingers-in-ears approach to any thoughts of financial instability.
And in the centre of it all, lounging on an animal print-cushioned dining chair surrounded by the bronzed limbs of cooing statuesque models, sits the man himself, the architect of this Bacchanalian decadence, beaming broadly behind wafts of smoke from his cigar like the cat that got the cream. 'I love to be loved,' he told me just a few hours earlier.
Here in Cavalli Club, he must be having a ball.